FOR IMMEDIATE RELEASE
15 March 2021
REENA AHLUWALIA LAUNCHES WATCH COLLECTION
WITH HER DIAMOND PAINTING ON THE DIAL
Hong Kong Top Brand Coronet® collaborates with internationally renowned jewelry designer and world's foremost diamond painter Reena Ahluwalia are very excited to launch our latest watch collection- The Coronet By Reena Diamond Watch Collection.
Celebrating our inner brilliance, jewelry & watch designer and diamond painter Reena Ahluwalia has launched her first ever diamond watch collection.
In her signature style, the timepieces spotlight mesmerizing diamond paintings by Reena on the dial in 3D. The watches are designed by Reena as Wrist Art. The central message is carried by her diamond painting for all who celebrate their strengths and are like diamonds - resilient, unbreakable and with limitless light.
The Swiss Made timepieces are gender neutral, elegant, with modern sensibility and a luxurious finish. The watch bezel is reminiscent of the crown facets of a diamond. The timepieces feature natural diamonds and come with the options of one or two-tone Stainless Steel metal straps or Italian leather straps.
The retail price of watches is under $500. There are nine SKUs and come in three styles in 36 mm - white diamond, yellow diamond and pink diamond.
The Coronet By Reena diamond watches are Reena's extended partnership with top HK based company, Aaron Shum Jewelry. The company has ten Guinness World Records in the field of diamonds.
At BaselWorld 2019, Reena and Aaron Shum earned a Guinness World Record for the Mudan Watch, with most diamonds set on a watch. The show stopper in the Mudan watch is Reena's hand painted diamond on the dial. This watch collection builds on the success of that record and took three years to develop.
Reena's design exploration starts with a memorable thought she wants her designs to carry, in this case to embrace our inner brilliance. It is followed by her many hand-drawn sketches and technical blueprints, before moving to CAD, model making and fine-tuning details after multiple trials and adjustments.
Reena designed her first watch in 2009 for a famous NBA player, who commissioned her to make a custom watch documenting his life's achievements.
Watch Details
• SWISS MADE
• Genuine diamonds
• 3D printing dial of Reena's diamond painting
• Case: Ø36mm Shiny Stainless Steel (316L)
• Glass: Sapphire Crystal
• Water resistant: 3 ATM
• 3 Year Warranty
• Genuine Italian Leather Strap in white, black and navy blue OR one or two-tone Stainless Steel Metal Strap with Push Button Deployant Clasp
• Bezels and straps available in white, yellow and rose gold IP tones
Styles
• White Diamond
• Yellow Diamond
• Pink Diamond
For retailers who would like to carry Reena's watch collection, please contact: jonny@aaronshum.com
Visit the following link for high re.image and videos:
https://drive.google.com/drive/u/1/folders/1QMTa9tyuzAT-WBW65TqeKDwne3Ay_rou
Diamond Watches by Reena. Design Copyright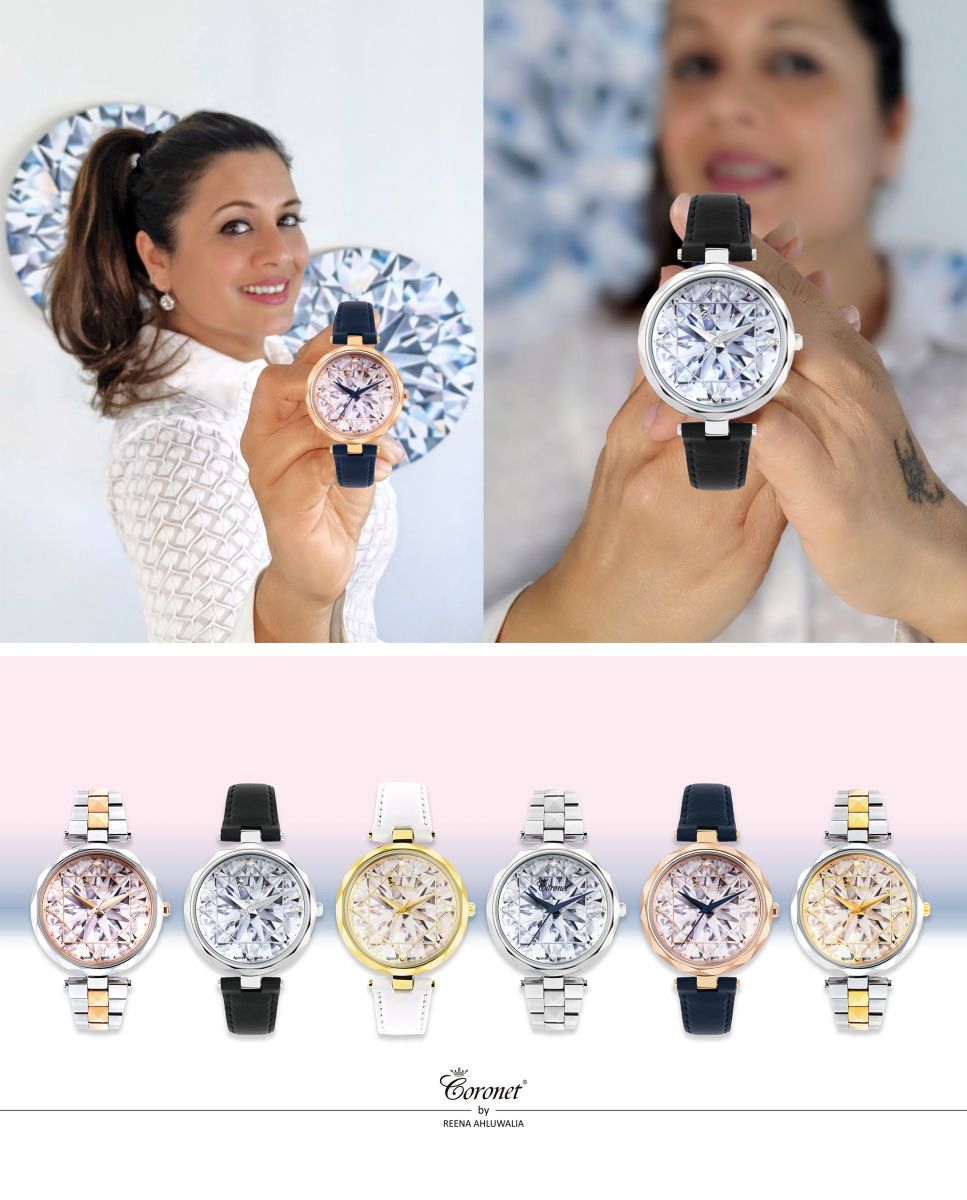 Diamond Watches by Reena. Design Copyright
The Guinness World Records CORONET 'Mudan' diamond watch features 15,858 diamonds - most diamonds set in a watch. The watch is set in 18K gold with artist Reena Ahluwalia's unmatchable diamond painting on the dial. The watch is a co-creation between Aaron Shum and Reena Ahluwalia.
Reena Ahluwalia with her hand-drawn diamond watch blueprint drawings and her diamond paintings. Copyright.